A Discreet Way to Straighten Your Smile in Waco, TX
If you want to straighten misaligned teeth without the hassle of traditional braces, Invisalign with Dr. Chad Latino, DDS., is the best option in Waco, Texas. Invisalign is the invisible way to straighten teeth. Invisalign uses a series of clear, removable aligners to straighten teeth gradually without metal or wires.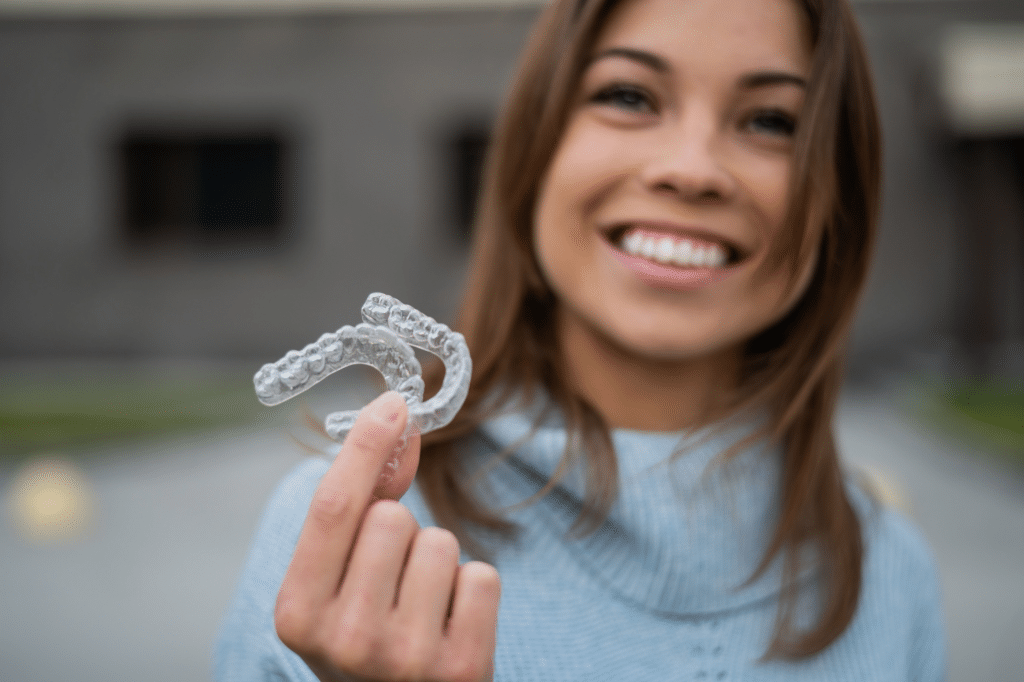 What is Invisalign?
Using 3-D computer imaging technology to depict the complete treatment plan, we will create a series of custom-made, clear "aligners" custom-made for your teeth. Each "aligner" moves your teeth incrementally. You wear them for about two weeks and then are replaced by the next in the series until the final position is achieved. Before we even begin, you will be able to see the initial position of your teeth all the way to the final desired position.
Why Should I Straighten My Teeth?
Straightening your teeth can have both cosmetic and health benefits. Straightening your teeth can improve your smile, boost your self-confidence, and make it easier to keep your teeth and gums healthy. It can also help correct bite problems that lead to jaw pain, headaches, and other issues. Straightening your teeth can also make it easier to brush and floss, removing plaque and preventing tooth decay and gum disease. Ultimately, straightening your teeth is a great way to improve your overall dental health.
Invisalign is Not Just For Straightening Your Teeth!
Invisalign can help correct the following:
Crowded teeth

Crooked teeth

Gapped and spaced teeth

Certain problems with the bite, such as an overbite, open bite, underbite, or crossbite
What Are Some of The Benefits of Invisalign?
Invisalign is clear. You can straighten your teeth discreetly.

Invisalign is removable. You can eat and drink what you want, and brush and floss like you usually do.

Invisalign is comfortable. There are no metal brackets or wires to cause mouth irritation, and they need constant adjustments.

Invisalign allows you to see the result before your start treatment to see how your straight teeth will look when your treatment is complete.
How to Care for Your Invisalign Clear Aligners
Invisalign clear aligners are a great way to straighten teeth without the hassle of traditional braces. It's essential to follow a few simple steps to keep your aligners in good condition and maintain their effectiveness:
Brush your teeth before putting your aligners back in place. Brushing and flossing will help remove any remaining debris that can cause cavities.

Rinse your aligners with lukewarm water every time you take them out. The water will help remove bacteria and debris that can build up over time.

Be sure to take your aligners out when eating or drinking. Removing them will help keep the aligners from becoming stained or discolored from food and drink.

Store your aligners in the case provided when not in use, and keep them clean and dry.
These simple steps will help ensure your Invisalign experience is successful.
Invisalign in Waco, TX
Seeing Dr. Chad Latino, a Platinum Invisalign provider in Waco, TX, for Invisalign treatment is a must because he is a highly experienced orthodontic specialist who is exceptionally skilled in providing customized Invisalign treatment plans. He is known for his kind, patient-centric approach and impeccable attention to detail. Dr. Latino understands the importance of a beautiful, healthy smile and will work with you to create a tailored plan that meets your individual needs and goals. He is also dedicated to providing the highest quality of care. With his expertise, you can be sure that your Invisalign treatment will be as successful, comfortable, and efficient as possible. Schedule a consultation today.